Structuring Web Content

Content needs to be structured differently for the Web, because the average Web reader scans the first few headings/paragraphs to decide if the content is what they need - and traditional content structure puts the most important information at the bottom of the page.
A lot of us were taught to write in the data presentation (pyramid) format, that is:
Introduction > Details > Conclusion
The Web, on the other hand, needs what's called an 'inverted' pyramid structure:
Conclusion > Explanation > Details
The inverted pyramid structure ensures that readers see the most important information first. This helps readers scan the page and decide if they want to read in-depth and - if they do leave - at least they'll have read the key points.

Screen Size
In a screen resolution of 800 x 600 - with screen space taken up by browser toolbars, interface graphics, and navigation elements - only a small portion of the content may be seen without scrolling.
Put the most important information first, then a short summary or explanation, and then include the details.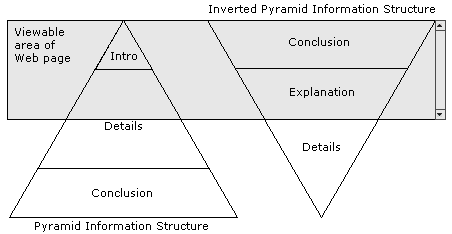 Checking for Errors in Web Writing


Scannability and Readability in Web Writing
Related:
Web Writing vs Print Writing
Write In Your Web Reader's Framework
Using Headings in Web Writing